GER-BUD specialises in thermal insulation projects for industrial construction and power-engineering structures. We comply with the applicable technology and work standards and requirements, as well as the most stringent quality standards, which is proved by our certification to: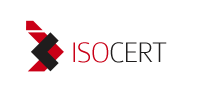 ISO 9001:2009,
ISO 18001:2004,
ISO 14001:2005
Our range of services includes:
heat insulation of pipelines with fittings; tanks; power boiler columns; turbines; electrofilters; fume exhaust and ventilation ducts;
cold insulation of chemical and petrochemical installations with the use of polystyrene foam, foam glass and plastic;
thermal insulation of machines, boilers, electrofilters, turbines, heat plants and heat and power plants;
scaffolding structures;
elevated and rope access works.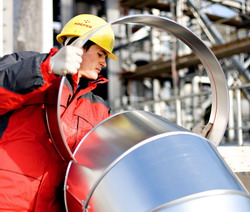 The insulation is protected with properly selected jackets made of smooth galvanised metal sheets, aluminium sheets, metals sheets painted to various colours, trapezoidal and arched steel sheets, acid-resistant metal sheets, as well as cement-and-gypsum and Belzona wrapping. Depending on the required protection parameters, we use insulation materials with heat resistance to temperatures ranging from 150oC to 1000oC, from Polish manufacturers or imported.
We offer a wide range of insulation work services for industrial structures, including:
process and power-engineering pipelines,
chemical industry apparatus,
storage tanks,
electrofilters and fume absorbers at power plants and heat and power plants,
power turbines,
boilers at power plants and heat and power plants and heat plants,
heat distribution networks.
All our projects are carried out by highly qualified personnel and professional mobile assembly/installation teams with the use of specialist equipment.
All projects are carried out in compliance with the applicable workplace health and safety and fire protection standards, requirements and regulations. High quality services, competitive prices and adherence to deadlines are guaranteed.
Our major customers include PGNiG TERMIKA, ZRE KATOWICE, ENREM Połaniec and Polimex-Mostostal. The results of our work have been appreciated by our partners and are confirmed by credentials and testimonials.